Woodcraft of the Month




Each month we will be featuring a woodcraft item, specially priced, as our
Woodcraft of the Month
This woodcraft item will be available for the entire month at this special price.
Each month the woodcraft will change.
So check back every month to see what the "special" of month is!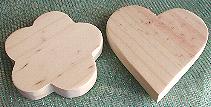 Heart and Flower
Candle Bases




Click below for







Woodcrafts





Wooden Display Units






Wooden Christmas Ornaments and Decorations





Decorative Woodcrafts





Shipping: 2-7 days depending on size of orders




Candles and Woodcrafts - 1992- Present Time