Unfinished Wooden Plaques and Bases





These wooden plaque/bases can be used for an array of different crafts projects
They are great for Candle Plaque Bases, School Craft Projects, Holiday Projects etc.

Cut out of 1/4 plywood and the edges have been sanded.

The large and small Cloud Plaque look the same size in the picture, but one is smaller.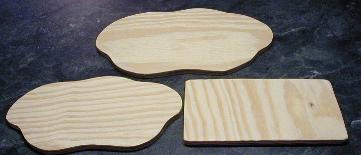 Small or Large Cloud Plaque, Rectangle Plaque


~~~~~~~ Small or Large Oval Plaque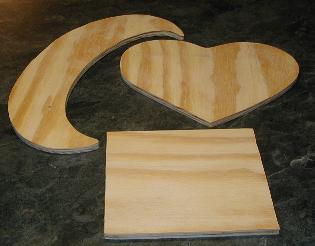 Heart, Half Moon, Square Plaque

Pictures of
Foot
Star
Cowboy Hat
Cowboy Boot
Christmas Tree
Pumpkin
Coming Soon!

Wooden Plaques and Bases
Sold in Sets or Singles

Large Moon - 8-3/4 x 2-3/4
Small Moon - 6-1/4 x 2
Large Cloud - 9 x 4-3/4
Small Cloud - 7-3/4 x 3-3/4
Large Circle - 5 x 5
Small Circle - 3 x 3
Large Rectangle - 8 x 4
Small Rectangle - 6 x 4
Large Square - 5 x 5
Small Square - 4 x 4
Large Star- 7 x 6-1/2
Small Star - 5-1/4 x 5
Large Heart - 6 x 6
Small Heart - 4 x 4
Large Oval - 8-1/2 x 4-1/2
Small Oval - 7 x 3-1/2


Woodcrafts


Wooden Display Units



Wooden Christmas Ornaments and Decorations


Decorative Woodcrafts


Shipping: 2-7 days depending on size of orders

Candles and Woodcrafts - 1992- Present Time